Firmware of your STB is outdated Please update it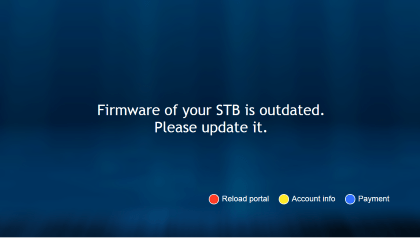 There are few reasons for this to happen:
Your Provider is running very old version of the Portal. For example 4.8.xx. The app is tested and working with 4.9.x and 5.x versions up to latest version
–or–
Your Provier's Portal settings have changed due to Upgrade from their side.
Sometimes Providers need to adjust their updated Portal to allow non-MAG devices to use it. 
–or–
Example Portal URL are like 
http://some-provider.tld/stalker_portal/c/index.html 
http://box.some-provider.tld/c/index.html 
Wrong Portal URL looks like 
http://box.some-provider.tld/
http://stb.some-provider.tld/
http://mag.box.some-provider.tld/
that redirects to 
http://some-provider.tld/stalker_portal/c/index.html 
Some redirects are not supported on Tizen TV's